The 'Banking Business Models Monitor: Europe 2015' is one of the three studies presented during the sectoral meeting on Banking and Financial Services organised with the EACB, "The Efficiency of the Co-operative Banking Model" at the Internationational Summit of Cooperatives 2016 in Québec.
Authors
The BBM Monitor is led and co-authored by Rym Ayadi, Professor at the Department of International Business at HEC Montreal and Director of the IRCCF and Alphonse and Dorimène Desjardins International Institute for Cooperatives. The BBM Monitor is co-authored by Willem Pieter de Groen, Associate Researcher at the IRCCF and Research Fellow at the FIPP Unit at CEPS, Ibtihel Sassi, Walid Mathlouthi, Harol Rey and Olivier Aubry, researchers at the IRCCF.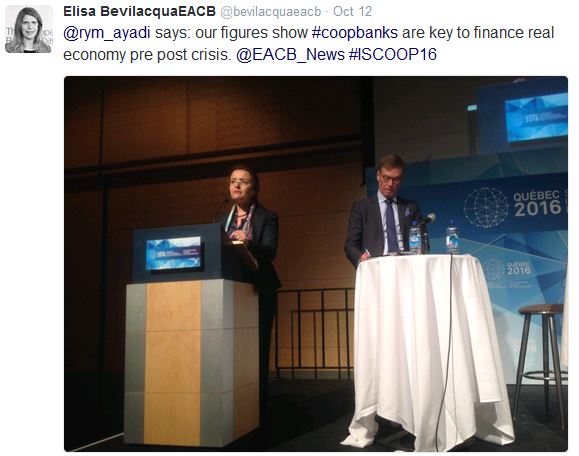 Presentation
In the context of evolving market structures and regulations, where fundamental changes apply to the European Banking Sector since the financial crisis of 2007-2009, the banks' business models analysis, launched by the IRCCF since 2014, provides market participants, depositors, creditors, regulators and supervisors with a useful tool to better understand the nature of risk attached to each bank business model and its contribution to systemic risk throughout the economic cycle. The 2015 Business Models Monitor of the European banking sector is the first comprehensive exercise that assesses the banking sector structures in light of the changing economic, legislative and supervisory environment.
Covering the entire European banking sector, the 2015 Business Model Monitor includes 2,528 banking groups and subsidiaries of non-European banks, which account for more than 95% of the European Economic Area (EEA) and Swiss banking assets during 2005 to 2014. The Monitor also uses a unique definition and a novel clustering model featuring SAS programming. For the analysis, the 13,040 bank-year observations were clustered into five broad categories: focused retail, diversified retail (Type I and Type II), wholesale and investment banks, and assessed in terms of financial performance, contribution to the real economy, soundness and resilience.
For the full study, please click on Download File under the picture on the left
Find TIAS publication 'A snapshot of European Co-operative Banking' HERE
and IAE publication 'Impact of Financial Regulation on Risk Policy of Financial Cooperatives' HERE.