OP Financial Group's Interim Report for 1 January-30 June 2018: Earnings before tax EUR 425 million - EBT for full year 2018 expected to be at the same level as a year ago
Comments by President and Group Executive Chair Timo Ritakallio
The first-half OP Financial Group's earnings were still quite good although they decreased markedly from the previous year. A marked decrease in investment income and a substantial increase in operating expenses lay behind by the weaker earnings. What was especially positive in the first half financial performance was the fact that the actual customer business performance remained at the same level as a year ago. Customer business income - net interest income, net insurance income and commission income - increased by 5% year on year. Our heavy investments in improving customer experience and business development increased our operating expenses by 12% over the previous year. Impairment loss on receivables was exceptionally low. At the end of the reporting period, OP Financial Group still had a strong capital base, providing a solid basis for a long-term business development while the financial sector transformation continues.
In the first half, OP Financial Group showed a business growth that was clearly faster than a year ago. The loan portfolio and Non-life premiums written increased to a rate of 3% and deposits increased to up to 6%. Corporate customer business showed strong growth in particular. Growth in client assets under our management was slower according to the general market trend, and therefore assets under management at the end of June were at the 2017 end level.
OP Financial Group is there for all of its customers. The world is digitalising at an ever faster pace, but we at OP Financial Group will continue to cater for customers with different needs for services. We want to offer a first-rate customer experience to both digital natives and those who are not so apt or accustomed to managing their affairs online. We aim to blaze the trail in building user-friendly services, and actually in early July we launched a stripped-down and easy-to-use OP Accessible online service to customers who are, for some reason or another, unable to use, say, the op.fi service or OP-mobile. The new service enables us to promote equal use of banking services among all customers and make their daily life easier. We have developed this service too in cooperation with our customers.
The representative assembly of OP Bank Group Pension Fund has decided to transfer statutory earnings-related pension insurance portfolio to Ilmarinen Mutual Pension Insurance Company. The transfer of the pension liability still awaiting regulatory approval will improve not only the capital base but also the current year's earnings of OP Financial Group. According to the current estimate, the transfer would improve earnings by around EUR 240 million on a non-recurring basis. The transfer of the pension liability would take place at the end of the year and its final effect on earnings will especially depend on developments in bond markets towards the end of the year. So, this is how we further specify OP Financial Group's earnings outlook for this year so that full-year earnings are expected to be at the same level as in 2017 - almost the record earnings ever reported.
OP Financial Group aims to transform in line with changing customer needs. In early June, the Supervisory Board of OP Cooperative decided on the composition and areas of responsibility of OP Financial Group's senior management. The reorganisation is aimed at sharpening the strategic focus, maximising the benefit for customers and speeding up business success. This reorganisation will involve simplified organisations and operating models and quicker decision-making. OP's new Executive Board started to work on 11 June 2018 and has been built around private and corporate customer business. The core of the business is still banking and insurance business. The new division of responsibilities and the Executive Board is aimed at improving strategic and operational agility while offering excellent customer experience and added value to our customers. The next stages in the reorganisation will take place during the upcoming autumn.
Alongside digitisation and the changing competitive environment, regulation is one of the factors shaping our sector drastically. We want to contribute to developments in the financial sector and be involved in building cooperation not only in Finland but also internationally. We have applied for the membership of Finance Finland as of the beginning of 2019 because a more intense cooperation is in the interests of all actors.
World economic development has continued favourably but more unevenly during the second quarter. The threat of a trade war, in particular, has caused uncertainty about economic development. The Finnish economy has continued to grow at a brisk rate in the spring and improved employment, in particular, has been gratifying. Economic surveys, however, suggest that the strongest stage of growth is about to be behind us. The economic outlook is still relatively favourable but we cannot pass over lightly especially international political woes.
On the whole, the Finnish macroeconomic stability is still in reasonably good shape. The current account shows surplus and there are no signs of overheating. Private sector indebtedness is increasing moderately as a whole - it is particularly worth noting that household wealth is still growing faster than debt. Debate about indebtedness will, however, continue. That is good. To support political decisions, an accurate snapshot of growth in household wealth is also needed.
Click on Picture below for full presentation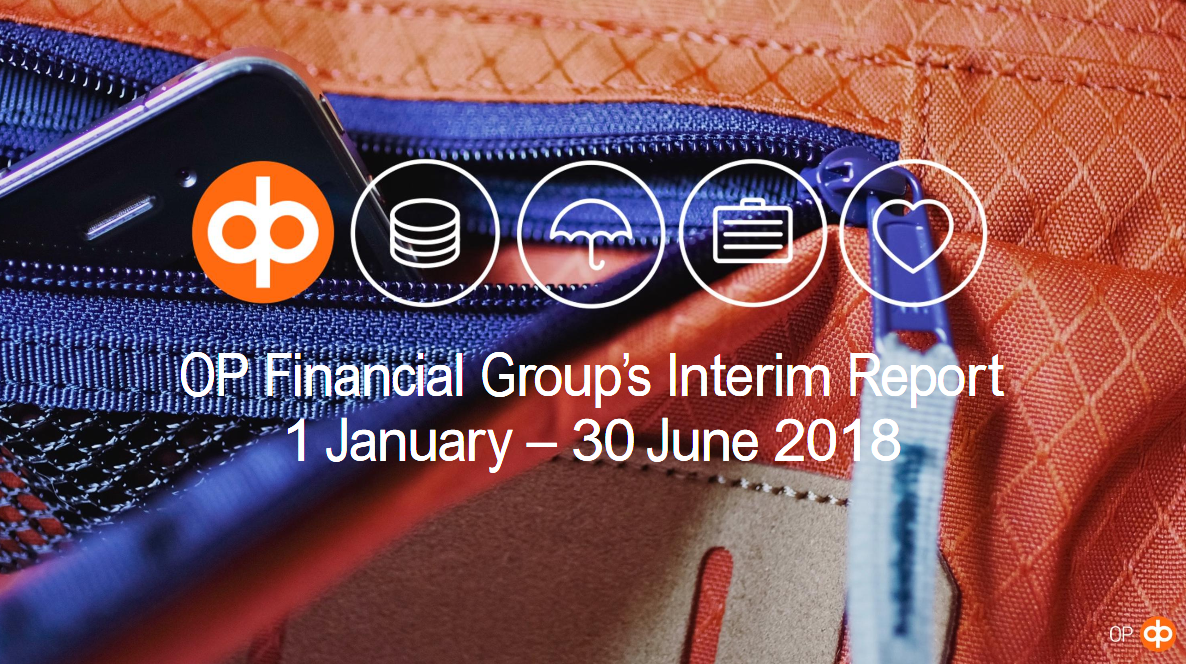 ---
Source: OP Financal Group website