H1-18 growth in net banking income [1] to €12.2bn, +2.0% (+2.8% in Q2-18) and in published attributable net income to €1.6bn, +3.0% (+6.1% in Q2-18)
RESULTS OF THE BUSINESS LINES [1] in the first six months of 2018: growth in net banking income driven by the development of commission income and Insurance activities
Retail Banking & Insurance:
H1-18: limited -1.1% year-on-year decline in net banking income to €8,468m
Enhanced commission income (excluding ERF [2]) in the Banque Populaire banks and Caisses d'Epargne: +4.5% in H1-18
Insurance: strong growth in business activities and revenues (+7.8% in H1-18)
Growth in revenues posted by the Payments activities (+15% in H1-18)
Q2-18: upturn in Retail Banking revenues, taking year-on-year growth in the division's net banking income to +0.8%, or €4,292m
Asset & Wealth management:
Buoyant growth in the division with a €1,596m contribution to net banking income, representing year-on-year growth of 17.7% at constant foreign exchange rates (+10.2% to €819m in Q2-18)
Corporate & Investment Banking:
Contribution to the Group's net banking income of €1,904m, stable year-on-year at constant exchange rates (-5.3% to €965 in Q2-18)

CAPITAL ADEQUACY & RATINGS: high level of capital adequacy and Group's credit rating enhanced
CET1[3] pro forma and TLAC [4] ratios equal to 15.2% and 21.6% respectively at June 30, 2018; the TLAC target defined in the strategic plan has already been achieved.
Moody's credit rating on the Group's long-term preferred senior debt upgraded from A2, outlook positive, to A1, outlook stable.

STRATEGIC PROGRESS: continued implementation of the Group's transformation plan
Plan to integrate Crédit Foncier [5] : an initiative announced in June 2018 designed to ensure the long-term future of Crédit Foncier's activities and expertise within the Group
Innovation: the first banking group in France to roll out the Instant Payment solution
Asset & Wealth Management: project of acquisition of MV Crédit (UK) and project of partnership with WCM Investment Management (USA)
On August 2nd, 2018, the Supervisory Board of Groupe BPCE convened a meeting chaired by Michel Grass to examine the Group's financial statements for the second quarter and first half of 2018.
Laurent Mignon, Chairman of the Management Board of Groupe BPCE, made the following statement: "The Group is publishing a good set of results for the first half of 2018 that confirms the effectiveness of our universal cooperative banking model entirely focused on its customers and founded on a diversified, recurring revenue base. The significant growth in the proportion of fee and commission income – thanks to our Asset & Wealth Management division, Payments businesses, and activities in our Retail Banking sector – illustrates our ability to offer our customers an ever-wider range of value-added solutions. Our financial strength has been further enhanced, an improvement reflected in Moody's decision to upgrade our credit rating to A1. The transformation of the Group is continuing to progress in many areas with, for example, new acquisitions in asset management or the launch of the Instant Payment service. The second quarter of the year also saw the launch of ambitious plans to redeploy all the know-how and expertise of Crédit Foncier, an initiative capable of creating new value for the Group, its customers and employees. Thanks to the active commitment of all, Groupe BPCE has achieved a level of performance enabling it to further accelerate its development, innovate for its customers, pursue its transformation, and achieve the targets defined in its TEC 2020 strategic plan."
Click for infographics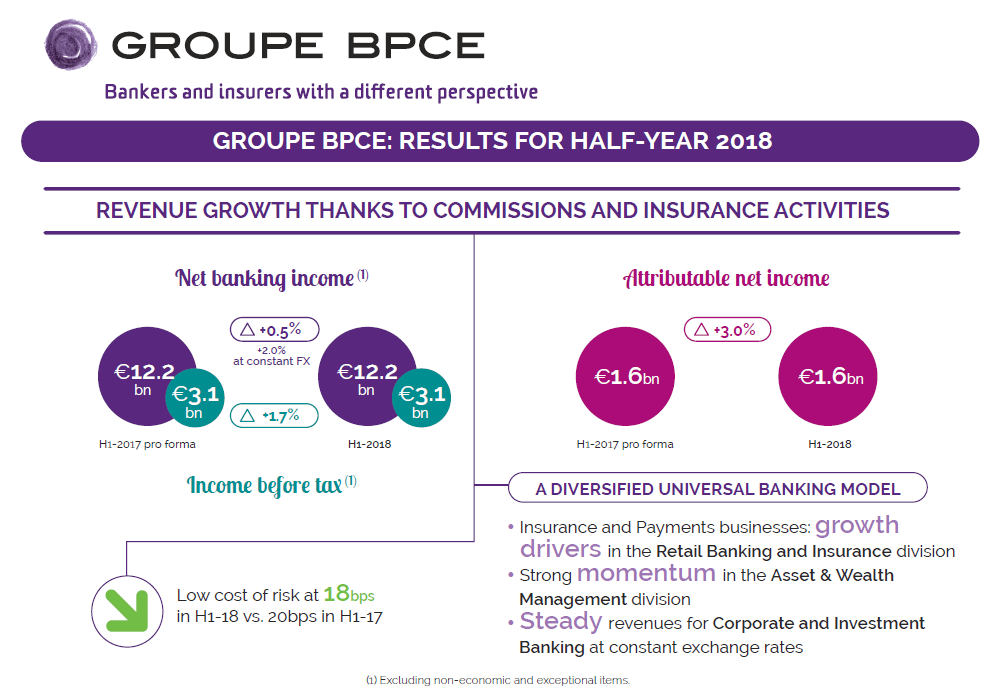 ---
[1] On a constant exchange-rate basis for consolidated net banking income. Underlying results (i.e. excluding non-economic and exceptional items). Change expressed between H1-17 pf and H1-18, unless specified to the contrary
[2] ERF = Early Redemption Fees
[3] Estimate at June 30, 2018 – CRR/CRD IV without transitional measures
[4] Cf. Notes on methodology related to the total loss-absorption capacity, page 21
[5] Plan subject to the notification/consultation process of the trade union representatives of the employees of the Group entities concerned by this initiative
Source : BPCE website